One-hundred-and-six years ago the ANZACs landed at Gallipoli. And although our …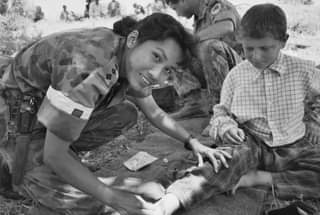 One-hundred-and-six years ago the ANZACs landed at Gallipoli. And although our famous ANZACs may be long gone, their spirit lives on through our veterans and serving members in all wars, conflicts and
peacekeeping operations.
As part of this year's Anzac Day commemorations, a series of images will be projected onto the Memorial building.
One of the chosen images, shown here, is of Army medical officer Captain Thi Thanh Tam Tran who treats a child as part of Operation Habitat, the Australian humanitarian relief mission to northern Iraq. June 1991.
Visit our website for more details: https://www.awm.gov.au/anzac
Photographer: D.J Tyler, CANA/91/0104/09
#AnzacDay2021 #AnzacDay